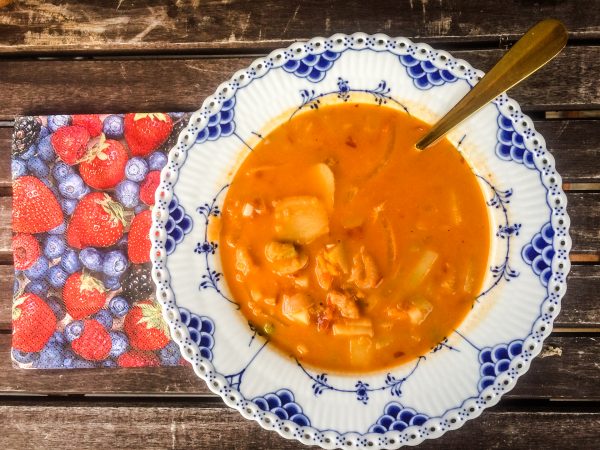 ❤️
Today I created my own Minestrone.
I love soups – it's my favorite dish.
I allways mix up a lot of vegetables.
This one came out so good that I want to save the recipe.
I always on use organic ingredients to minimize the amount of additives.
1 box of chopped tomatoes.
5 potatoes chopped into small pieces.
4 big carrots chopped in the electronical chopper.
5 cloves of garlic – also big ones – chopped in the electronic chopper.
1 piece of ginger – average size – sliced.
1 banana sliced into thin pieces.
5 teaspones of coconotoil.
1 squeezed lemon.
2 spoon of coconutsugar.
2,5 dl of peas.
4 rhubarbs cut into thin slices.
1 big onion cut into slices.
1 teaspoon of chili flakes.
1 teaspoon of cane.
1,5 liter of water.
1-2 dl. cream. (if you are vegan/or xxxxx use a can of coconut milk instead which I think will be delicious)
3 spoonful of ketchup. (I had a leftover of some homemade ketchup that I added.)
Salt and pepper after your tast.
Boil it into everything is very well cooked.
Then your done.
Bon appetite.
❤️❤️❤️
Remember to adjust the ingredients for your taste.
I take no responsibility for your final course. ❤️
Save
Save
Save