Usikkerhed
Oplever du nogen sinde at blive ramt af usikkerhed?
Det gør jeg.
For nylig modtog jeg et godt råd fra en anden clairvoyant.
Usikkerhed, hvordan takler jeg den.
Her gang jeg føler usikkerhed, følger jeg hendes råd.
Først identificerer jeg følelsen af usikkerhed.
Dernæst tager jeg et mentalt skridt tilbage.
Herefter oplyser jeg mit indre og ydre.
Jeg forestiller mig selv stående i lyset og udstråle et meget stærkt lys.
Dette hjælper mig til ikke at lade mig tilbageholde af usikkerheden.
Tidligere har jeg arbejdet meget med lys, men jeg har ikke før brugt det på denne måde.
Det virker rigtig godt for mig.
Jeg bliver ikke længere tilbageholdt af usikkerhed.
Hvis du har lyst så prøv det.
Bestil en clairvoyance på booking @ Botteleth . com.
Masser af kærlighed og lys.
❤️❤️❤️
Insecurity
Do you ever experience situations where you are suddenly struck by insecurity?
Well I do.
Recently I received very good advice from another clairvoyant.
Insecurity, how do I handle it
Whenever I feel insecurity I use this advice.
First I identify the feeling of insecurity.
Next I take a step back mentally.
Then I fill my inside and outside with light.
Picture myself standing in the light and glowing a very strong light.
This is enough for me to not having to act upon my feeling of insecurity.
I worked a lot with the light but this way of using it I did not try before.
It really works for me.
I am not held back by insecurity anymore.
Feel free to try it out.
Book a clairvoyance at booking @ Botteleth . com.
Lots of Love and Light.
❤️❤️❤️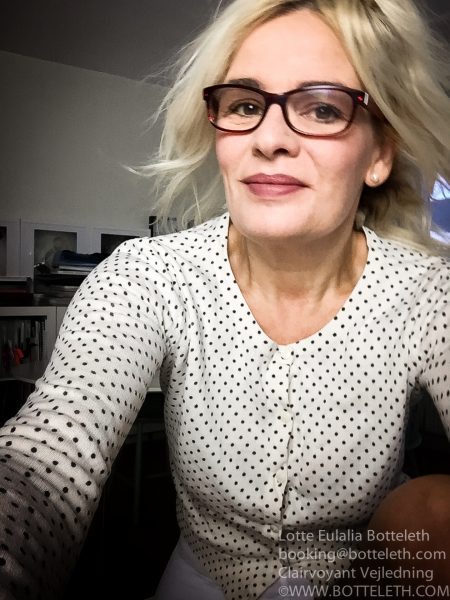 Læs om du stiller for høje krav til dig selv.
Do you have unrealistic demands towards you.